Looking back through some old (and mostly private) posts, about three years ago, I was falling apart. Depression was worse ever, anxiety was bad, there was lots of family stuff going on, etc. — just a straight up clusterfuck. And then I made things a hundred times worse when I stopped taking my antidepressant and anxiety medicine on a whim. It makes me cringe so hard now just thinking about what a straight up mess I was.
Okay, yeah, inspirational type things like that really aren't me.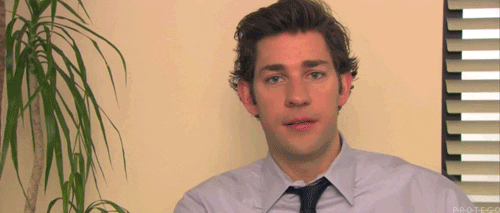 If I were going to do an inspirational type thing, it'd be something along the lines of, "Yay, you're less of a fuck up than you were a few years ago. Go, you." (And now I really want to make that and post it in the comments section of the next person who posts one of those memes. Oh hell, I'll do it.)
It's been about a year since I saw my therapist. And in the year range since I wrote anything about my own mental health. And I never dance around those issues with my friends anymore, either. (I say "dance around" because those conversations were very limited and vague.) After spilling my guts the other ways for the better part of three years, it's been weird not saying anything and kinda losing touch with myself, if you know what I mean. I went from being very in tune with my feelings, moods, etc. to, well, not. 
That kinda bit me in the ass a little, too.
A few months ago, I started having some heart palpitations. A few times per hour, I was having palpitations. Since the only other time I have had heart palpitations is when I was having an awful anxiety/panic attack, I assumed that my heart was about to kick it.
Husband: "It's anxiety." 
After waiting for my heart to kick it for a week, I went to the doctor.
New doctor: "Sounds like anxiety." 
Me: I don't think so…
<refers me to cardiologist, palpitations worsen>
Cardiologist: "I really think this is due to anxiety, but I'll do an ECG." 
That turned out fine, of course, but I still didn't think it was anxiety. I figured that as someone who has dealt with anxiety pretty much forever, that I would know if anxiety were the culprit. I mean, yes, I was having anxiety and very much on edge a lot, but still…that wasn't how it typically presented in me.
Psychiatrist: "What's new in your world?" 
I tell her about the palpitations.
Psychiatrist: "Oh yeah, that's anxiety, it might be time for you to start back taking a daily medication again." 
Me, in my head: IT'S NOT ANXIETY.
Me: I don't think it is. Doesn't seem right. 
Psychiatrist: Maybe it's not, but let's give this a try for a month and see what changes.
I agreed.
Within a few days, the palpitations were gone. Hmph. Being the person that I am, I skipped them for a couple of days, and lo and behold, palpitations started back. So everyone was right except for me on this one.
That definitely showed me that I'm not as on top of the anxiety (or any of the other mental health stuff) the way that I was. Maybe if I had been mood tracking (the tracker goes through a bunch of symptoms on a sliding scale to show how you're doing with anxiety, depression, etc.), I'd have put it together on my own without wasting a few hundred bucks on having my heart checked. (Or maybe not, it's possible that I'd have never fingered something I associate with attacks with run of the mill anxiety.) Same thing with my moods — when I'm not diligent about tracking those and being aware of triggers, it's easy for things to go south and get super irritable. Whereas if I'm more aware, I can tap out or do whatever it is I need to do to stay right. Not so much tapping out these days.
So, I guess I should add this to my New Year's Resolutions list — track shit, lest I go in clusterfuck mode again. I've got an app downloaded to my phone, plus I was gifted a nice adult coloring book/marker set for Christmas. Everyone says it's really calming, so we'll see. I don't anticipate having the patience for it, but it does look pretty cool.
Really, though, I think it's extra important to be on top of things right now. As excited as I am about getting a cochlear implant, I know the risks. I know that I might lose the rest of my hearing in the implanted ear, that the sound quality might be awful (think sensory issues), that relearning to hear just might not work out, etc. I'm willing to take those risks because the possible benefit is huge, but I know that if things don't work out or it gets too overwhelming or whatever, that I could be prone to falling into a bad depression. I guess that's true any day, but more so with that situation, I'd think.
So, here's to getting in touch with my brain again, so that I avoid the cringe in future posts. Scratch that — there's always going to be cringe with me — so I'll shoot for avoiding batshit cringe.
Next up — time to do a catch up on the family that doesn't involve talking about what cute/funny thing they said. As much as I enjoy doing the Dorky Mom stuff, it almost pains me at times to only show my family/myself through that one lens. That's the nature of the content and all, but still…
Till then.