Is it day 892 in quarantine? Because it sure feels like it.
I got out of the house last week. I had to drop off the kids' completed homeschool packets and pick up new ones. At the first school, they had a drive-through type thing where you didn't have to get out and be around anyone. The people who gave the new packets had on masks and gloves. At the second school, you had to get out, ring the doorbell, open the door, go in and hang out in the tiny lobby with four other people working, and no social distancing whatsoever was being practiced. No masks or gloves, either. Gah.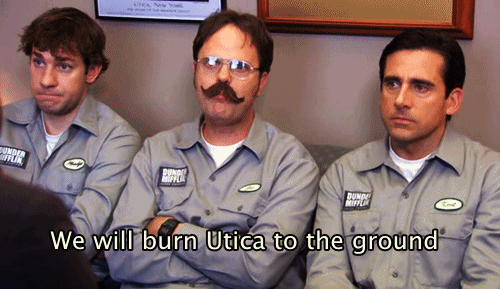 Replace "Utica" with "the school" if I caught something from them.
I have finally accomplished something in the quarantine. I wrote three short stories over the past week. Hence my not being on WordPress much. Thirty pages written and edited multiple times. I'm very happy about that. The deadline to submit the stories to be considered for the anthology was today, and I submitted them at 1:30 in the morning. I hope one gets accepted. *Fingers crossed* One of the stories was a continuation of another story that I published, one was about a single mom finding out her kid as autism (I love the "capture the emotion of the moment" type stories, so that's what I usually write), and one was a horror type store, which is new for me. I am close to having enough completed short stories to self-publish a book of stories of my own. #Goals
Any little bit of emotional regulation BG has improved on is long gone. I really don't know what to do with her now, but we're talking several severe meltdowns per day over just anything. (They make her old meltdowns pale in comparison.) It feels like she spends an hour per day shrieking. And to make it worse, she's biting herself a lot and has several big bite mark bruises on her arms. I really wish her therapy place would have done the telehealth visits so her therapist could help work with her on this some. We have several strategies to help BG with regulation, but they aren't helping at all. I am at a loss. This quarantine stuff is rough on everyone, but is really taking a toll on her.
Easter was good, shrieking aside. We got the kids stuff to keep them busy for their baskets — LEGOs and board games. We did an Easter egg hunt and then goofed out for the rest of the day, which isn't all that different from most days. I had planned to make a chicken casserole for Easter lunch, but we had some electrical issues. My husband was trying to spray a wasp outside and sprayed one of the fixture and then we lost power for a while. Everything is good now, though. My dad came over to drop off a go-kart for LM today and helped fix things. It was weird to have someone else in the house for a bit.
I'm glad everything is working now.
If y'all are looking for a new show to watch in quarantine, check out Superstore. One of the producers from The Office created it. Much of the first season is rocky (much like The Office and Parks and Rec), but by the end of that season, it has me for real laughing out loud. It's on Hulu.
How are y'all doing? I tried to catch up on some blog reading earlier — if I missed yours, drop a link in the comments.