If we were having coffee, I wouldn't bitch and moan about the heat today. We're getting some respite from the heat this weekend, with highs in the upper 70s. It's accompanied by clouds and rain, so it's rather dreary, but I'll take dreary over 90s any day. Our area has had almost 60 days of weather in the 90s (real feel in low 100s typically, thanks to humidity), and that is more than this time last year, which ended up 74 miserable days. So, this break is welcomed with open arms, even if it's rainy.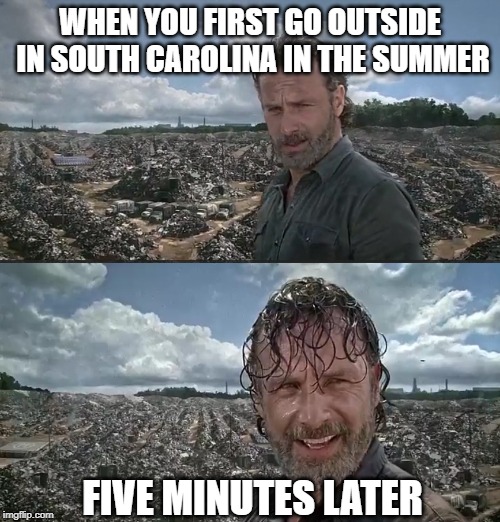 If you were actually at my house for coffee right now, you'd probably give me a pat on the back for having a reasonably tidy house. I missed the kids while they were off at school this week, but my house is not a disaster zone, and for that I am grateful. Silver linings, amirite? I've got a load of clothes going and need to wipe down the table from this morning, but otherwise, it's all good. I wouldn't even turn someone away from my doorstep if they came up unexpectedly, and that's saying something for me. (They'd have to wait while I put on a bra, but that's it.)
You'd probably ask how the kids' first week of school ended, so I'd tell you that LM's ended on a very positive note. He had zero complaints for the week, enjoys all of the teachers he has met, and has made a couple of nerdy friends. The boy also made a 97 on his English quiz and a 95 on a math quiz. As long as he stays on top of his assignments and turns things in this year, he should do just fine. (He had a few Cs and Ds on his progress reports for not turning in stuff last year, so I'm hoping that won't be an issue!)
Baby Girl, on the other hand, is still trying to adjust as I mentioned in another post. She doesn't have any specific complaints, and she seems to like her teacher, but she has cried in the mornings and at night a lot and says she doesn't want to go. Part of it is she's just not sleeping long enough, despite lying down early. She also wakes up in the night, so she's understandably very tired. Hopefully when she gets those tonsils out next month, I think she'll sleep better. Even if she doesn't fall asleep earlier, she'll get a better night's rest at least.
The principal greats her every morning and lets her cuddle his dog, so that usually perks her up before she goes inside. I should probably make a point of asking if she gets upset or has a meltdown if they'll take her down to cuddle the dog for a bit. We will have a meeting to go over a 504 Plan soon, so I'll bring it up then. Hopefully the coming week will be easier for her! I know it would take time for any kid to get adjusted, and even more so for one who is having sleep issues and is on the spectrum. It just breaks my heart to see her so upset.
We have no real plans for the weekend. My husband originally wanted to go to the zoo since the weather was supposed to be cooler, but it's a) rainy and b) the kids are tired and want to hang around the house. We can always do the zoo in the fall. My friend messaged me about going to dinner tonight, so I may do that, but that's it if anything. I may also have a drink or two or three tonight. Lazy weekends are the best, especially when they come on the heels of an exhausting week!
How was your week?
Weekend Coffee Share is hosted by Eclectic Alli