Every so often, I'll see those "I was today years old when I learned ____" memes on Facebook.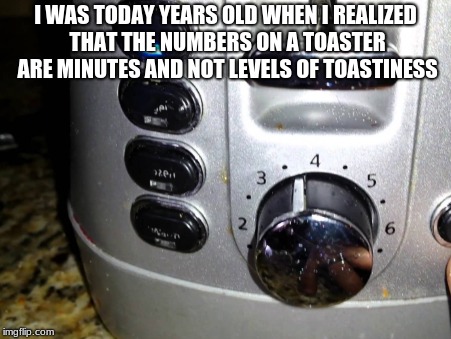 I found this one when Googling for a meme to put here. Count me as being "Today years old" for that, too, because I didn't know that. And since I went 30ish years thinking that was a toastiness level, I'll have to make some toast later to confirm.
I started writing this post a few months ago and abandoned it. In that time I've learned that my toaster's numbers are not the length of time something gets toasted. It's a $10 toaster from Walmart, so maybe my cheap toaster doesn't work right. How about yours?
I have my share of those "Today I learned" moments. Maybe even more than my fair share.
…I learned how chicken broth works
Several years ago, some ladies at the church I attended asked me to cook a chicken and bring it in the broth to the church for something they were making. So, I googled how long to cook a whole chicken and got the necessary supplies — a whole chicken and a couple containers of broth.
My husband came into the kitchen when I was getting everything together and wanted to know why I had chicken broth.
"They told me to bring the chicken and the broth up there when it was done," I responded.
"But you don't need chicken broth when you're cooking chicken! You cook it in water, and it makes its own broth," my husband told me.
Lies.
I laughed, because clearly he was full of shit. A chicken doesn't make its own broth. Right? Broth comes from…well, I didn't know what it came from exactly, but I knew chicken wasn't self-producing broth. His way would be a plain old chicken in water. I certainly wouldn't be drinking that chicken water if I were sick, like I do with actual chicken broth, which is salty and tasty.
We argued a bit and then I texted my stepmom, since she knows almost everything about cooking. (I say "almost" because she rinses her rice and pasta, sigh.) She confirmed that my husband was right and that all I needed to do was bring the chicken and the chicken water to the church.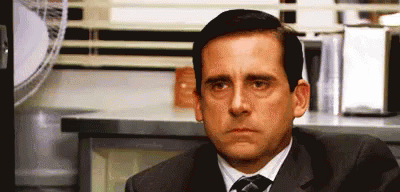 So is my bath water actually human stock, then?
…I learned Delaware is a state.
I was supposed to learn all of the states and capitals and label them on a map in 7th grade geography. I don't remember how I did on that test, but I do remember hating that class and having to put in actual effort to do well in it. I'm assuming that I made a B on that states test, best case scenario.
So, yeah, I learned about Delaware being a state a few years ago. I don't know how we got on the topic of Delaware, but I asked whether Delaware was in Virginia or Maryland, and my husband totally thought I was pulling his leg. I was not. He was baffled that he married someone who forgot (assuming I ever processed it) that a state was a state.
"But you collected the state quarters!" he said. "How did you not know?!"
"My grandmother collected the quarters and gave them to me. But maybe I knew and forgot. I dunno."
Delaware STILL does not sound like a state to me.
Also, LM has 7th grade geography now. I told him he better not ask me for help on anything, just go to hisdad.
…I learned the ribbon in the battery compartment is there for a reason.
Some time ago, I noticed that the manufacturers of electronics and toys that required batteries often have ribbons in the battery compartment. This annoyed me, because I had to cram it in after inserting the batteries and it often hung out a little. Why would they waste ribbon by sticking it in a battery compartment of all places?
Eventually, I started cutting the ribbons out and throwing them away. I cut out those ribbons for years until fairly recently, when I learned why those ribbons exist.
I found an old remote control car that belonged to Toddler Little Man in storage and wanted to give it to Baby Girl. I screwed open the compartment and saw that a) I hadn't removed the old batteries before storing it and b) the batteries had corroded. I groaned and tried to use my screwdriver to pry out the batteries. I couldn't and was getting a bit frustrated until I saw the ribbon hanging out and had a light bulb moment. Since the ribbon was under the batteries, I could pull on the bit hanging out and hopefully yank the batteries out, so I did. I marveled at my cleverness for a moment until I had a second light bulb moment and realized that must have been the intention of the ribbon all along.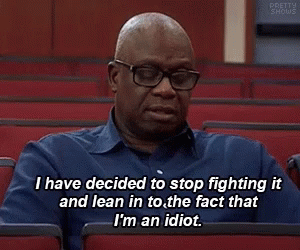 …I learned that Wolverine isn't just a character in X-Men
Surely I'm not alone in this one. This is something I've also learned in the past year or two. My husband and I were talking about college football, and I commented that it was odd that Michigan named their college team after an X-Men character. My husband had a WTF look on his face. "They didn't name it after Wolverine from X-Men. They named it after the animal."
I laughed at that, because that sounded ridiculous. Imagine — a wolverine animal!
"That's not an animal," I told him. "Wolverine is supposed to be like a wolf, but they just made his name sound cool by calling him Wolverine."
Another note: I know nothing about X-Men beyond what I've watched in the movies. And the ones I've watched didn't address the origin of his name, not that I remember anyway.
"It is so an animal," my husband said looking at me like I was absolutely insane. "Look it up!"
I rolled my eyes and just knew he was messing with me. What the fuck kind of animal could someone like the ripped Hugh Jackman with the funky hair and admantium claws be based on?
This, apparently:
Sigh.
What is your "Today I learned…" moment?