Last week, we discussed making money and blogging. Today, I'm going to teach you about what your blog is REALLY lacking.
It's hotness.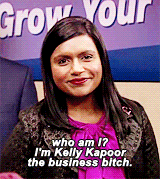 I'm Erika, The Blog Bitch.
So, about five years ago, I was stuck in a writing rut and decided to get help from Google. I came across a website with an article called 101 Blog Post Ideas That Will Make Your Blog "Hot." 
Hell yes. Hotness is just what this blog has been lacking.
I scrolled through the list and came across some interesting things, like Host a giveaway. Interesting, but what the fuck would I give away? Lord of the Rings toys? Dirty diapers? The right to name my next child (even though a third child isn't happening)?
On to another idea. Criticize a website/blog or a person. Oooh, yes, I could have my own Burn Book type post and talk shit about all of my fellow bloggers.
"Fuck John for not telling me more about his swagger." Or "To hell with NotAPunkRocker for skipping Christmas cards." Or maybe "Damn that NerdInTheBrain and her gratitude."
[None of these amazing posters are still blogging as far as I know. 😦 ]
Eh, maybe not. I'm not a fan of people hating me.
Number 9 is Tell a personal secret. Is there anything I haven't overshared on already, though? Then there is Bust a myth. Is this kind of like Bust-A-Move? (Fun fact: my husband clued me in on the fact that one of my favorite arcade games shares the same name as a song.) Myth busting seems like it would take more effort than trying to come up with a legit blog post, though. And more than likely, Snopes has already got to it
Number 34 is Start a poll. I've never done a poll on this blog before, so there's no time like the present, right?
That doesn't really make for much of a post, though, does it? I suppose I could discuss my leg shaving habits in a post of its own and have the poll and all, but I kinda doubt anyone would want to read that.
Directly after that is #35 Write a post about things you regret doing/not doing. Um, no. I'm not trying to add to the depression. Maybe I'll hit that up in January.
Halfway through the list is #51 Create a blog post about your bad habits – Smoking, alcohol, drugs. Tell them something shocking!
Dafuq? That's just a little too much enthusiasm for someone else's struggles, person who created that list! And I'm stopping at that one. I now have something resembling a blog post put together, plus I want to save the other half of this list for tomorrow or another day this month when I can't come up with much of anything to write.
Looking at numbers 1 through 51 on that list only, which is your favorite? Anything you're likely to use? Maybe the Publish your CV online suggestion?
---
I may post Part 2 on Friday.