I dunno what's up with that title. I was going for classy, because I imagine a post acknowledging having a WordPress account for six years deserves a certain amount of classiness, but it just comes off as corny.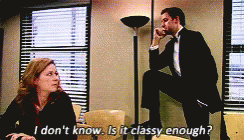 No, Jim, it probably isn't.
So, corniess aside, it has been six years since I created this blog. I didn't make my first post for a couple of months, but here I am, six years later, close to 700 blog posts (only a small fraction are still visible to the public), and at least another 100 deleted out of cringe.
As I've said before, this started as my therapy blog, but it has never been just that. I've probably made more posts about stuff with my kids or life in general that therapy/mental illness stuff. It has been a good place to vent, work out problems through writing (even if they're deleted now, it helped to post at the time and get some feedback), chronicle my kids' childhoods, and even share creative writing a couple of times.
Aside from improving my mental health through writing, I don't think I had any long-term blog goals when I started. No "X amount of views" or "X amount of followers" or whatever. And with no more than I post now and with how things have changed so much, I wouldn't dare look at my stats.
For whatever long-term goals I did (or didn't) have, I can tell you that I wouldn't have imagined being in a place where I'm barely writing. Especially with so much extra time on my hands.
To wrap up this post that tried to start out with a joke and ended up flat, here's to another year in the WordPress world. Six years. Hopefully the seventh is a bit more productive! (And less pandemicky.)
(Upon proofreading this, I swear, I should just change Eeyore to my avatar lol.)