It's the boy's 12th birthday. How is he that old? How are we just a year from him being a teenager? Where the hell did the time go? I swear, it was just yesterday that he was letting me dress him in a cute little black and white striped polo shirt, blue jeans, and black and white Converses for his first day at preschool.
(Now he does not let me dress him at all, at least not without a fight, and certainly won't agree to polos or jeans on his own. Who the hell hates blue jeans?!)
The cake is in the oven. It's a lemon cake, and it isn't even from scratch, not that I'll tell the boy that because he says he doesn't like box cakes. (He also is blissfully unaware that my much loved strawberry cake is from a box, albeit not made with the box recipe, plus it has fresh strawberries.)
He had a birthday party with some friends on Saturday. We did an escape room for the first time, which was super fun. And it'll probably be even more fun when my husband and I do one on our own as a date night, because those kids were unorganized and didn't even get the first clue until the end, when the kid running it told them they missed it. But they finished with time to spare anyway, of course! Those are four super smart kiddos, though, so I'm not at all surprised.
One of the kids he invited is the girl I suspect he likes. Watching them together on Saturday made me think this even more, and I'm pretty sure it's a mutual thing. It's funny–this child is so unaware of personal space. If he's sitting next to you at the table, then he'll more than likely be half in your lap, because it's like some kind of magnetism takes over that makes him be uncomfortably close to you. This was the case with his female friend, and she did not tell him to move. In fact, she was leaning into him and grinning, so that's how I know.
It all went well, although I was kind of worried we'd get kicked out of the restaurant for those kids getting so loud. Lots of laughter, lots of obnoxiousness that you'd expect in a few sixth graders, etc. They had so much fun, though, although a nasty headache was settling in on the way home from the loudness.
Sunday was the family party. And I was kind of worried we'd get kicked out of that restaurant for BG and her cousin getting so loud.
There was one glorious moment when LM was opening his presents. He got a card from one of his grandparents, and it had money and a little tube inside.
"I know how you go through Chapstick," she told him, "so I stuck a tube in there for you."
I couldn't see it clearly, but knew it did not look like Chapstick. After he was finished, my brother picked it up to look at it, since he didn't think it looked like Chapstick, either. It wasn't.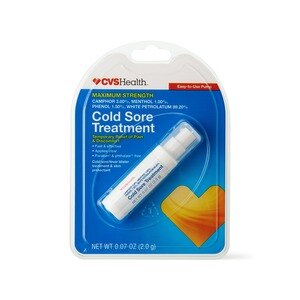 (Not the actual tube, but close enough.)
We both realized at the same time and about died laughing. My MIL wanted to know what was so funny, and I told her between gasps that she hadn't bought her 12-year-old grandson Chapstick, but cold sore medicine. And boy was she embarrassed.
"I meant to get Chapstick! I know he isn't doing anything to get cold sores!" LM doesn't have the first clue about cold sores, but he knew she was embarrassed, which was enough for him to tease her and refuse to give it back.
Fun times.
Tonight it'll just be the four of us. LM requested filet mignon for supper, so my husband is handling that. Mr. Fancy Pants. He already knows what we're getting for his birthday since his list was so limited. I had exhausted my non-list ideas for Christmas and couldn't come up with anything else. He asked for a new BB pistol, an Apple watch, and a cat. We can't get a cat right now, which I told him, but I did get the other two items. (Albeit not an Apple brand watch because that went over our limit.)
I did not want to get him a BB pistol, but my husband was for it, so he'll have one. (He has the typical BB rifle most boys get, and I confiscated that after he accidentally shot his sister in the face a couple years ago. My husband was supposed to be supervising, but didn't supervise very well because he was letting him shoot at targets IN THE DIRECTION of where he was playing with BG. Wtf?) Hopefully no eyes are almost put out with this one, sigh.
Time to move on, so happy birthday LM!