So, I ended up with bronchitis, and it has been kicking my ass. I'm talking coughing-spasms-till-you-pee-yourself. TMI? Probably, but thank god for pads. I think the worst is over now, but knowing my history with bronchitis and my lovely asthmatic lungs, I probably won't be at 100 percent for a while. (But is anyone really at 100 percent from January to March/April when the flu and colds and stomach bugs are going around? I'll have plenty of company, I'm sure.)
Wanna hear what my sympathetic child said to me not once, but twice while I was at my sickest?
"Could you stop breathing, please? I don't like the sound you make when you breathe now."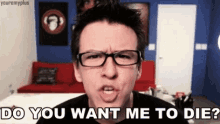 Tonight the girl suggested putting on her noise-canceling headphones while I listened to her so she wouldn't have to hear my funny breathing. I told her to just take the book to her dad.
We were supposed to be on a cruise ship a week from Thursday, but that isn't happening. I can't remember if I already posted about this or not, but we had to cancel due to some health issues with my FIL. I'm really down about that because a break would be so damn nice and welcomed, but it is what it is. Silver lining, I won't have to worry about hacking up a lung on a cruise ship (because I doubt I'll be back to normal by then), nor will I have to worry about BG, who is becoming the Anxious Kid to my Anxious Mom.
And before I sound like some asshole worrying about a vacation when someone else is having health issues, let me say that he's doing well right now. And he and MIL insisted it would be fine for us to go. It's just that if a health issue comes up, it's not like we can get back easily to get the kids. If we were in the U.S. and could easily catch a flight, it would be a little different. And we may do something like that next month, since MIL is insisting we need to get away, though I'm not sure how much of that is about us vs. about her getting some extra time with the grands lol.
You'd probably think with all the sick time I've had that I would be blogging or catching up on reading, but nah. I have been reading some books, though. I read a John Grisham book to start off the year. And then I binge-watched Unbelievable and the two seasons of You on Netflix over the past sick week. Unbelievable was incredible, and I see why everyone is obsessing over You. I wasn't expecting to like it, but it hit me right in my guilty pleasure feels. I spent the two days after that reading the two books the show is based on. It is so not the kind of thing I would typically watch or read, but it hooked me.
I need something else to read now, preferably something that isn't making me cheer on a nutso serial killer.
What up, people?