It looks like the lice have been eradicated from our household. (KNOCK ON WOOD.) The girl is the only who got them, and hopefully the rest of us won't either since I treated all of our heads to be on the safe side. BG got treated twice and will again tonight. The men-folk are none too please about having their hair checked every day and getting treated, but oh well. Better to be inconvenienced than pass anything around.
School started back yesterday, only LM couldn't go because he got sick on Sunday. Great timing, kid! My husband took him to the doctor yesterday morning and the doc things he has an upper respiratory thing going on. I started hacking my head off yesterday afternoon, so I guess it'll make its way through the house. Boo.
We didn't do anything for New Year's Eve but did hit up the zoo on New Year's Day. It was BG's first time going, and she loved it for the most part. (Until she got burned out and had a meltdown in the penguin area, which is my favorite.) We spent a lot of time looking at the lions, but despite her little lion obsession, I think her favorite thing was the King Cobra, which she called adorable. That fucker was huge! She sat there for 20 minutes staring at the thing. LM and my husband made their way around the rest of the reptile exhibits while she stared, and I tried to avoid looking at the creepy thing.
(BTW, she said if the King Cobra got out of his aquarium type setup, whatever it's called, he would totally be best friends with her and want to hug her. We had to have another talk about not touching things like that if we were to come across a snake or whatever outside.)
We spent the rest of the week cleaning out shit. The living room, game closet, books, and LM's room. LM cannot stay on top of keeping his room remotely tidy at all, so my husband and I were both fed up since he made zero progress over the break. My husband bought 10 huge totes and took them in. LM was upset, of course, but we let him pick out a few of each things he enjoys, like his Transformers and Nerf guns, with the promise that if he can keep his room clean then he could earn stuff back eventually. We filled up 7 of the totes, which is crazy. We plan to do the same with the girl's room this weekend. LM told me today that he likes his room better without so much stuff in it, so that's good.
Do y'all remember me commenting on the Pac Praying poster my husband bought LM for Christmas, how I thought the label was for Pac-Man Praying and was super confused? I'm sure most of y'all figured out that it referred to Tupac. While we were helping LM with his room, he opened the poster to hang it. The look on his face was priceless when he saw this: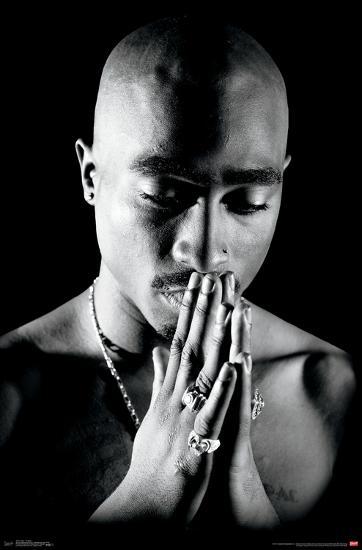 "Oh wow," he said. Wow, indeed. That's an odd choice for an 11-year-old boy. I tried to suppress my snickers.
"I just had to get it for you," my husband told him. "Where do you want to hang it?"
LM hemmed and hawed long enough that my husband realized he didn't want to hang it. "You don't want to hang it? You don't like it?" he asked.
"I do like it," LM said. "But it's so weird."
My husband looked offended. "Why is it weird?"
I started laughing. "Look at it!" I said. "He isn't wearing a shirt and has his eyes closed, praying. That's a bizarre poster choice."
"Well, I thought it was cool," my husband said, somewhat offended. "I guess I'll just throw it away."
"No, don't throw it away!" LM exclaimed. "I'm grateful for it and all. I'll just keep it in my closet it for now and hang it when I don't have friends anymore." He was dead serious, too, which made me laugh even harder.
How has the start of 2020 gone for you so far?